This is Betty Boop, she is the VP :) And her Jeep bbop! She loves her baby and isn't afraid to be called a Mall Crawler!​ She has a 2011 2dr. JK and loves her LED lights. Can you guess her favorite colors? and NO.. She's not a GA fan~ :)​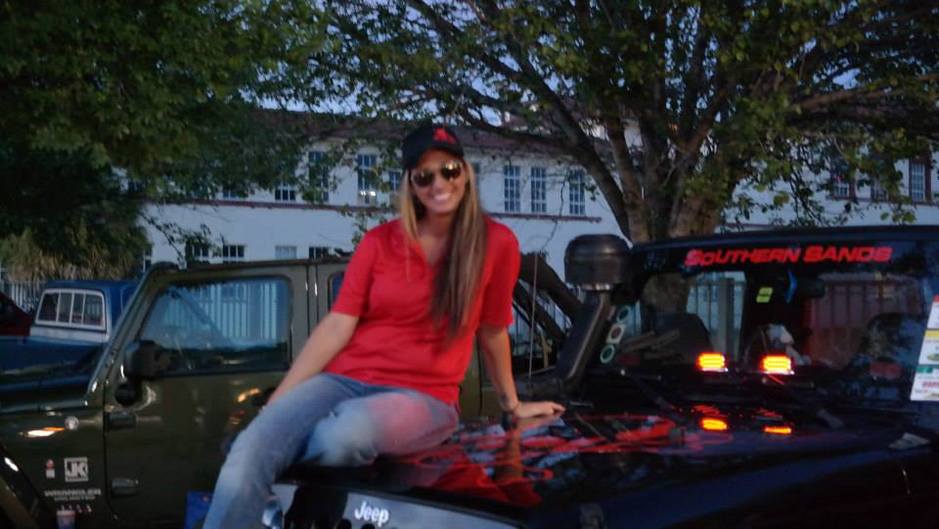 This is Larry, our fearless leader,the president and founding member of SSOR. He is also the glue to this great club. His baby is a 2006 Jeep Wrangler that through years he as modified to his liking...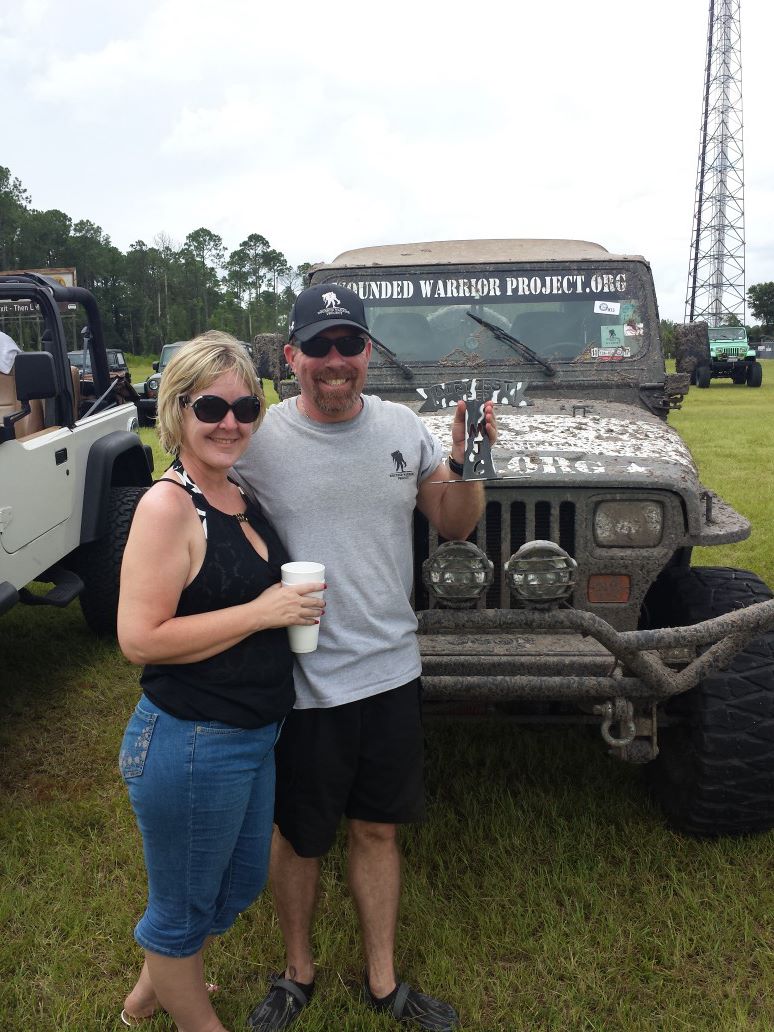 This is the MJC's choice for Dirtiest Jeep! This baby belongs to Steven Schneider and received this award at the 2013 Show and Shine. Well done don't you think? I am glad that I didn't have to clean that up afterwards! LOL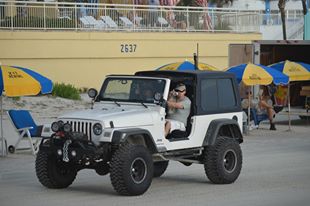 Here is Anthony and his Jeep during the 2013 Jeep Beach. Anthony is one of the best mechanics around and is always lending a hand! A great guy with a huge heart and an awesome Jeep!
Done something UNIQUE to the Jeep?


Modification
Lights
Decals
Or just ol' nice and clean

Let us know... Pose and say "Jeeeeeep​​​​​​​"
Mari and Linda got their 2002 Jeep Wrangler. They fell in love with her for the first time. They saw her by the side of the road. They drove into dealer and did not leave till they drove home with it. Little by little they have done some stuff and got a ways to go. They love it!!!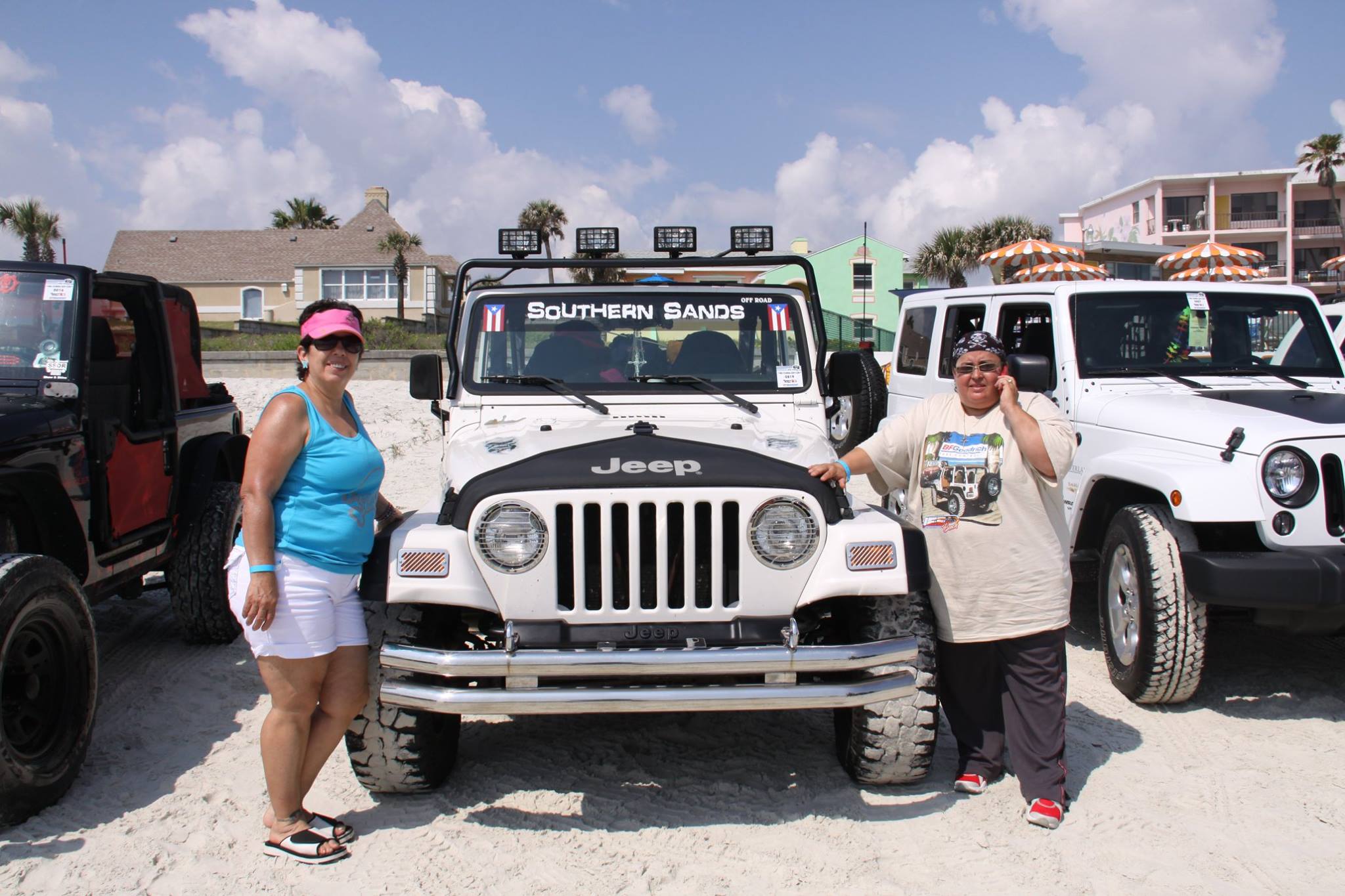 This is Lola a 1992 Jeep Cherokee. He got the Jeep from his buddy Junior year of high school. He kept it running since then and been upgrading whenever he can. Recently he rebuild the steering and suspension on it. The nickname is a running joke with the family.
This is Chad's Jeep, a 2000 Cherokee with a 5 inch lift. It is known as Protect FUBAR, or just. F.U.B.A.R for short. He loves to get dirty and push the limits of his project.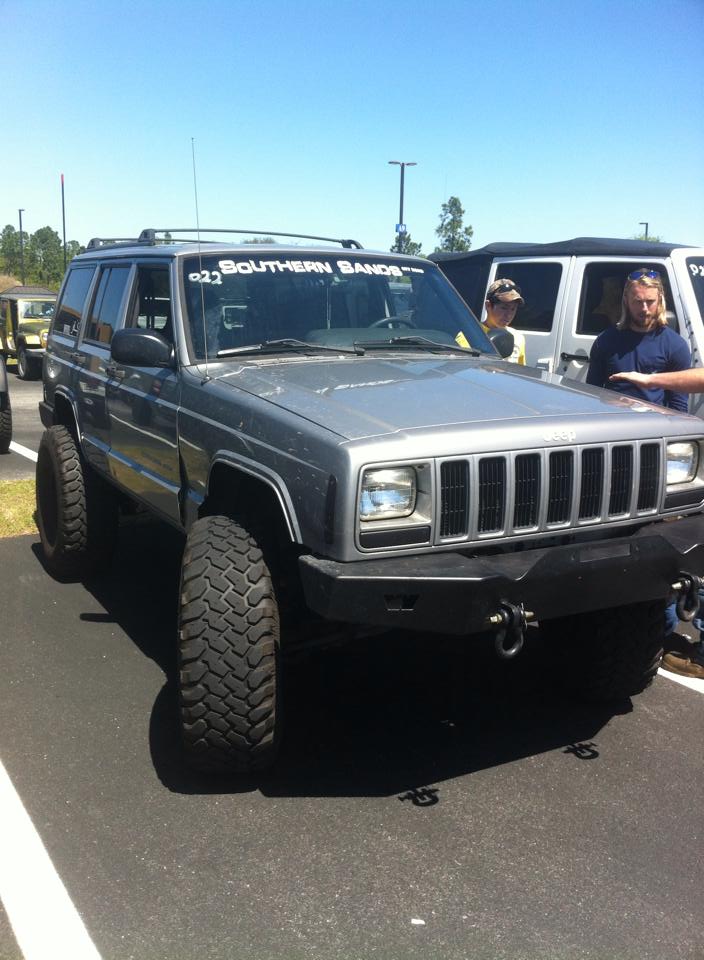 This is Kristen's Jeep, nicknamed Trouble. They go hand in hand. Looks pretty, but play dirty. Its a 2008 Wrangler with a 2 inch lift. She is not afraid to take the doors and off top and just enjoy the ride.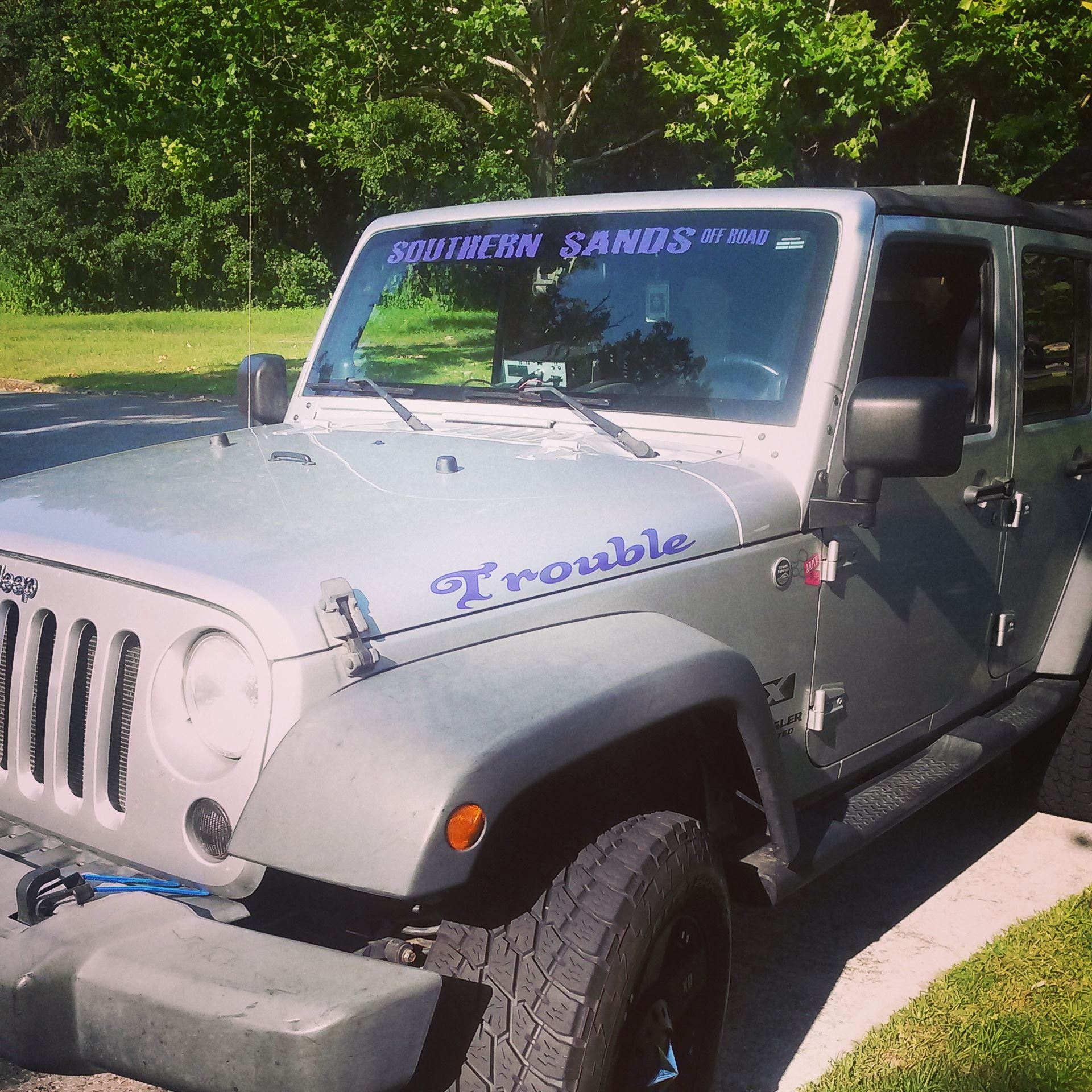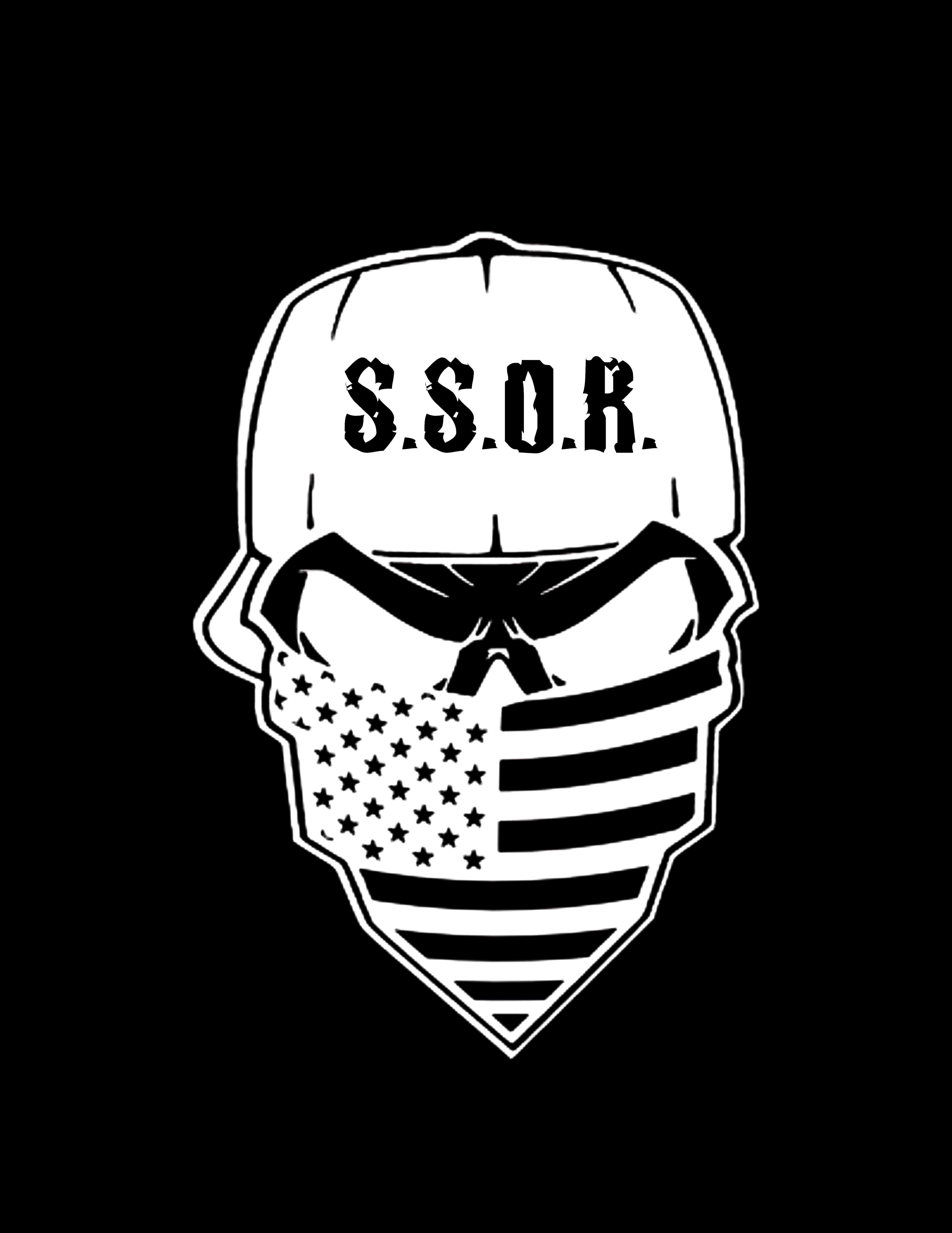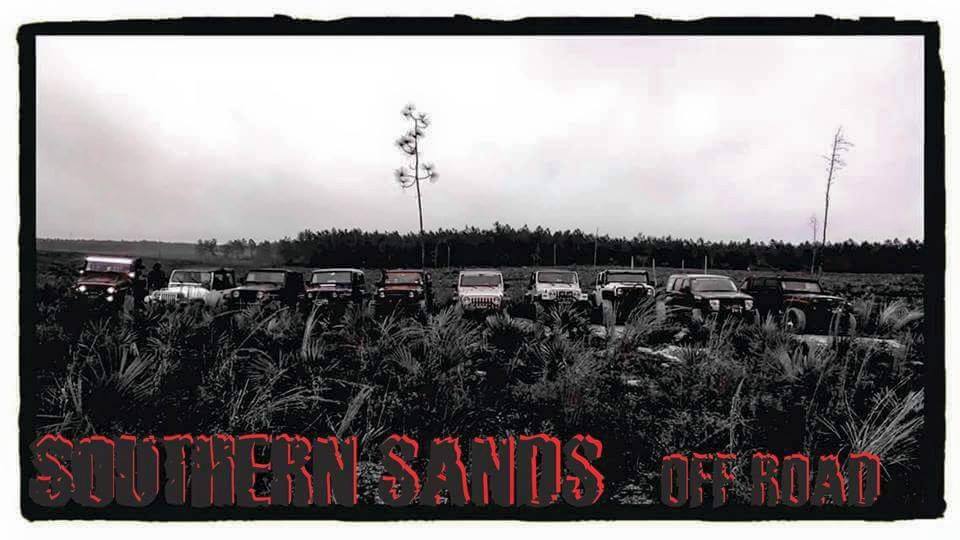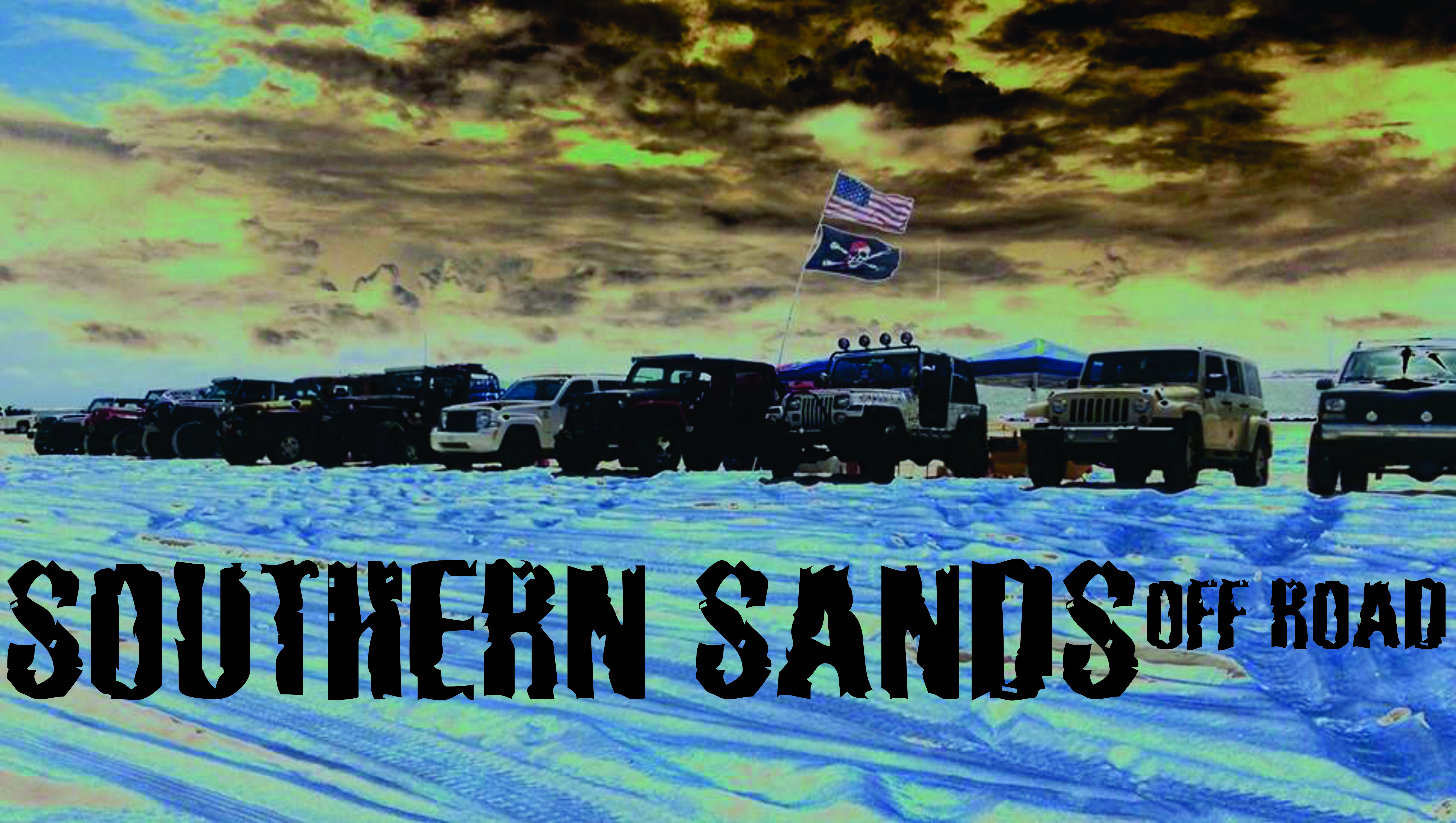 Sean a.k.a. "Durango" 4.7 V8 swap. JBA suspension. 244/75/16 Treadwright tires. WAM Bumper. Smittybilt 9500 winch. Bottle cap remover thingy.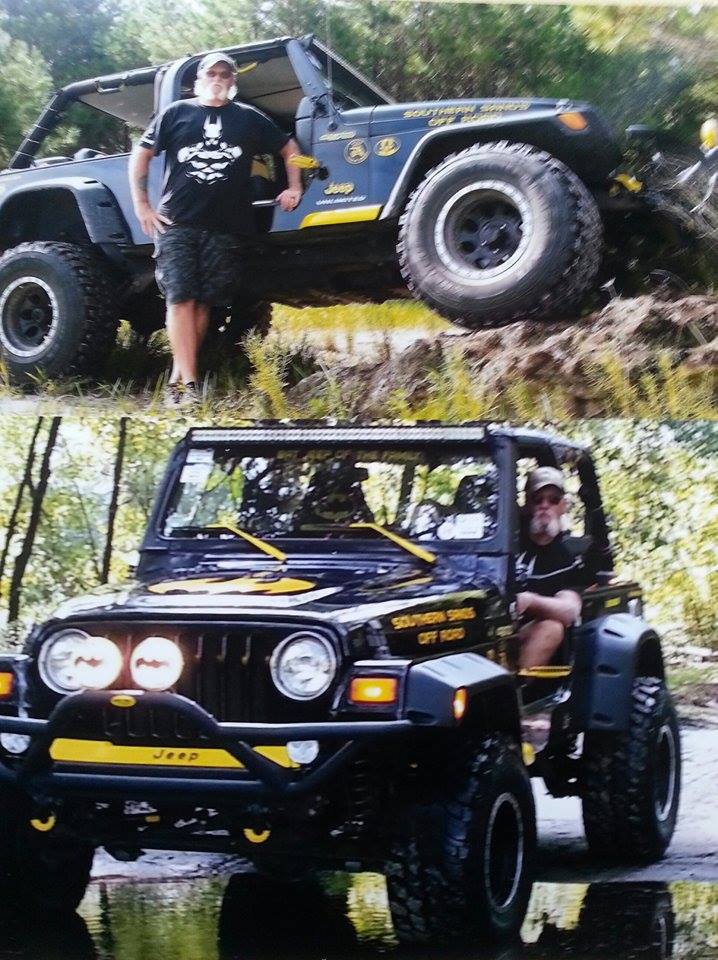 Here is Bob's 05 LJ . It has a 4 inch Rubicon Express lift. 33 in Hercules Trail Diggers.

​I'm not saying that he is Batman, I am just saying that no one has ever seen him and Batman in the same room...

​​Performs best after dark.

Jamerson 2002 Chevy s10, 1996 Jeep Cherokee XJ running gear, 35" BFG KM2 mud tires. Smittybuilt 9500 lbs winch

2017 jeep wrangler Rubicon unlimited, 3.5" x factor Rock Crawler lift, fox 2.0 shocks, 37" Procomp mtz2 tires, poison spyder bumper. Working progress building a overland rig.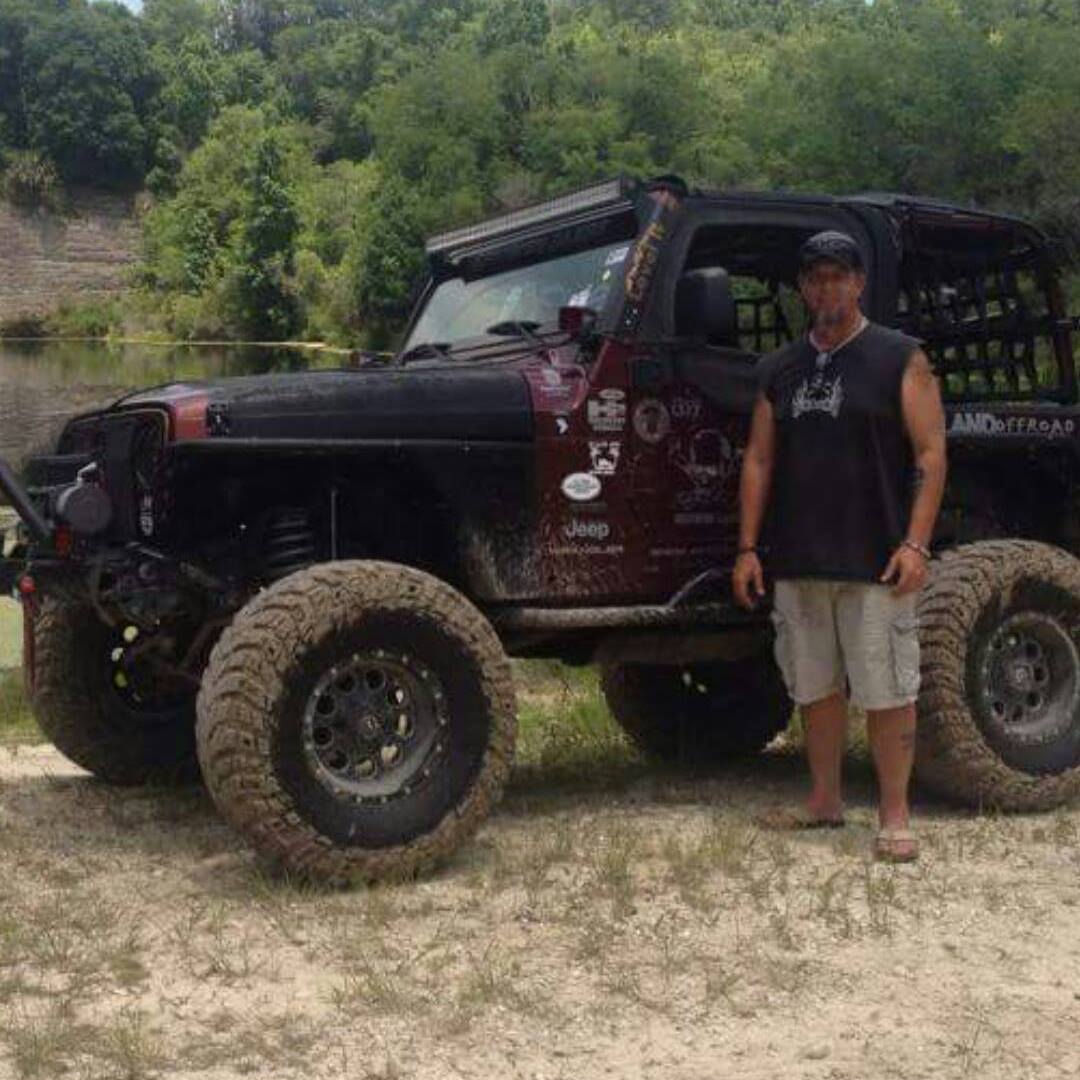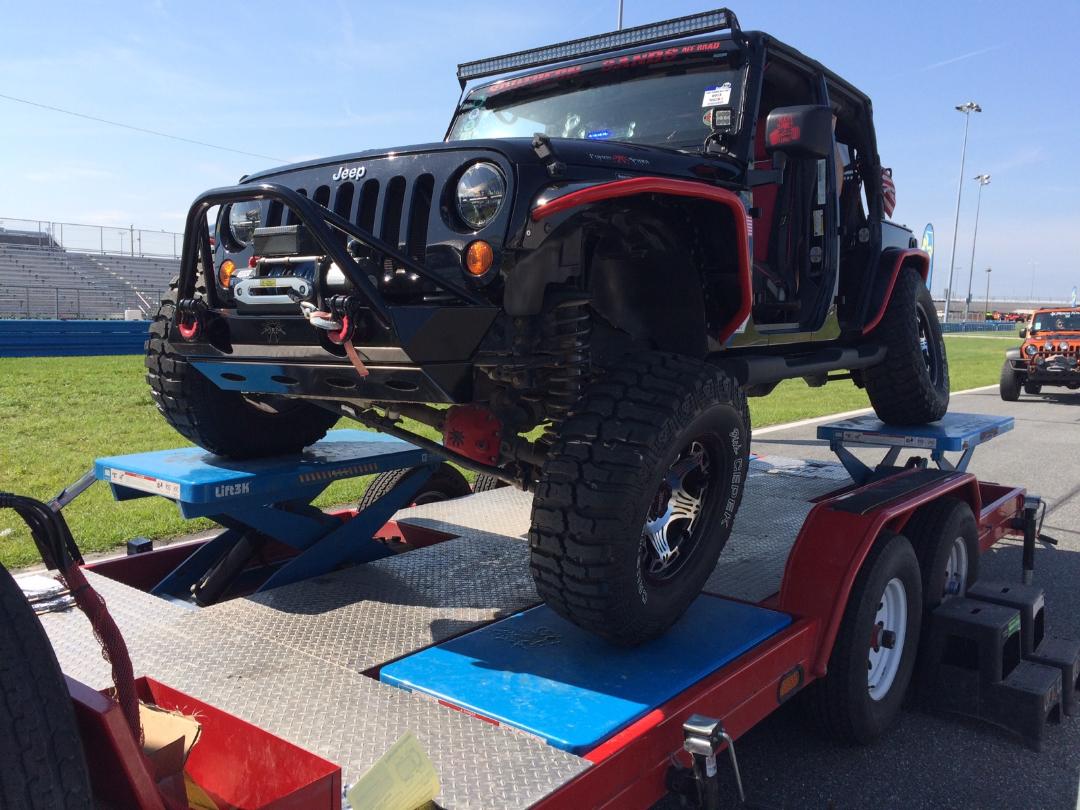 A little about me....
I am 45 and originally from Terre Haute, Indiana. Married to Monica for 24 years with 2 children, Taylor,22, and Levi, 18.Currently living in St. Augustine. I own a Dairy Queen franchise in Indiana. I love to hunt, fish and go wheeling.

​​My rig is a 2008 JKU Sahara with a 2 1/2" lift.. Poison Spyder bumpers and flares. G2 4.56 gears with an Eaton auto locker in the front Dana 30 and a Eaton E-locker in the rear Dana 44. Sitting on 35" Dick Cepek Crushers and Moto Metal Skull rims. 10,000 lbs winch, Dominion air compressor and Horn Blaster train horns. Many, many more small things I can't
think of listing
Venom !!! 2012 Jeep Liberty with a 4 inch JBA lift kit on 32inch at's with Dick Cepek rims, custom steel bumper of pain for the zombies. 12k winch to rescue stuck wranglers. Led lights all over and a custom made roof rack. Did I mention the bumper, yeah, its got a 1/4 inch braced skid plate. I bulldoze good. Spiders, yeah, they are bad and evil and nasty and they all need to die. Lead the trail ride once, ended up with spiders all over the jeep. I dont lead anymore.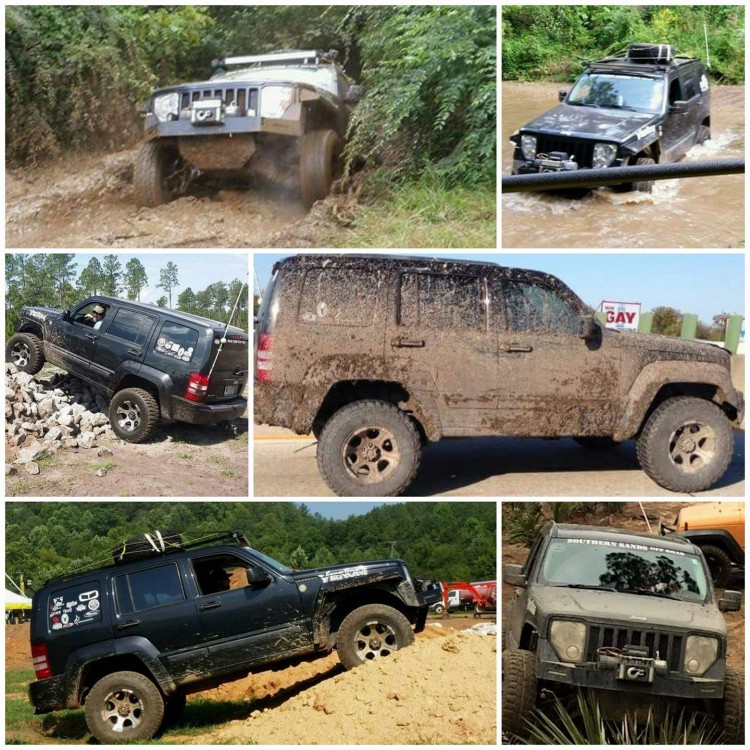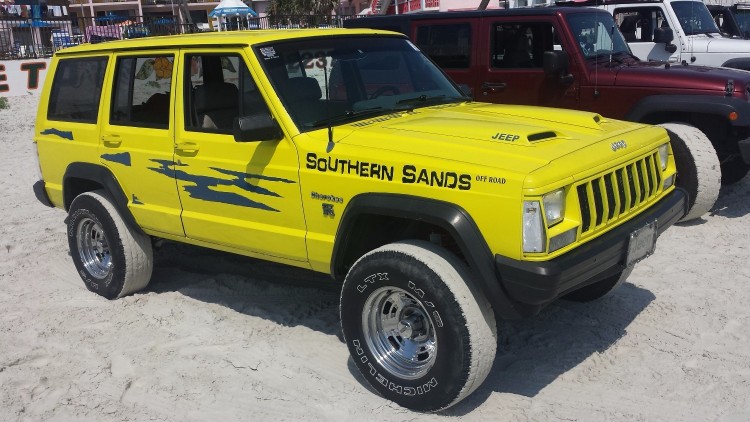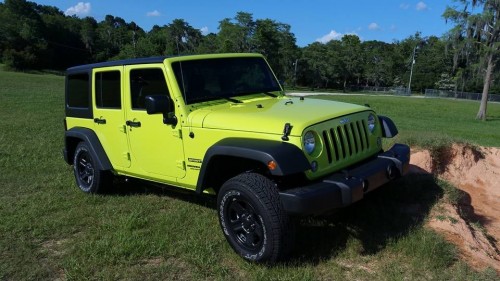 This is Project Dakar... Mr IT new project. It may be stock now, but it will start to grow to an adult. The future is bright for it.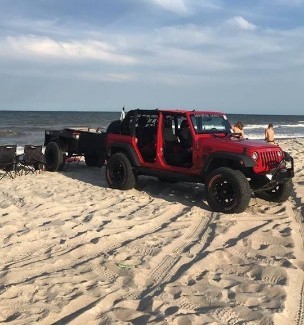 Joe been around since the club started. 2012 Jeep JK 4.5" lift 35" tires 1940 bantam trailer in the US Coast Guard live up in Yulee.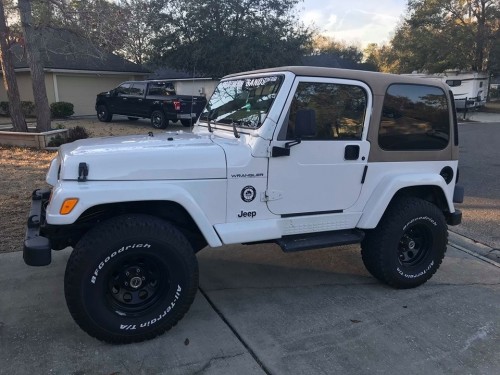 Gabe is 16 and has the 2002 jeep wrangler TJ goes to Yulee high school and is military brat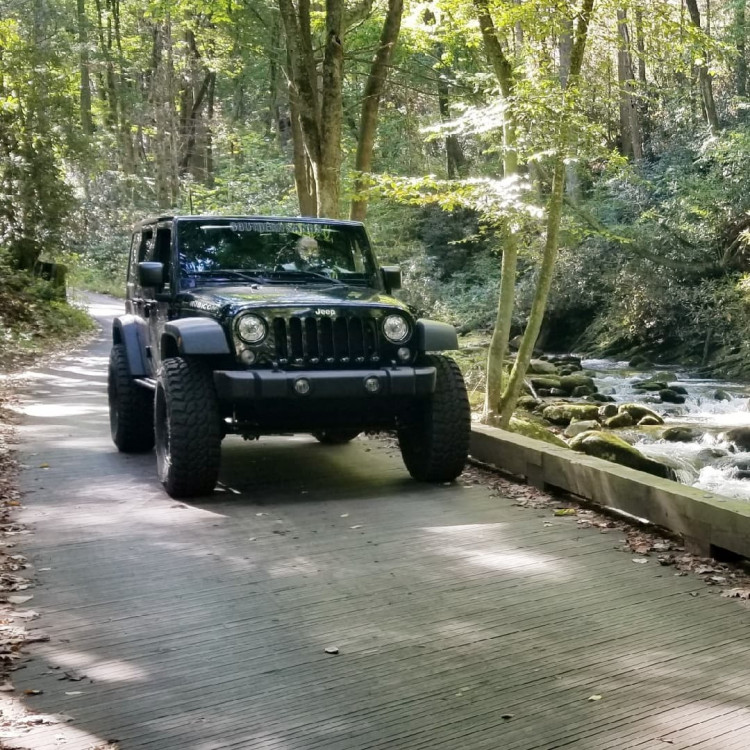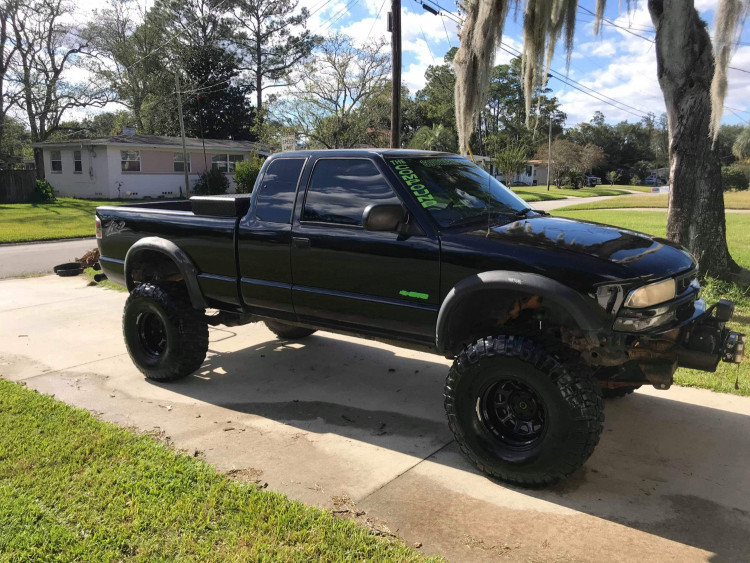 Becky "Unicorn" Rubicon Express Lift. ATX 17" Rims and 35" BFG All Terrains.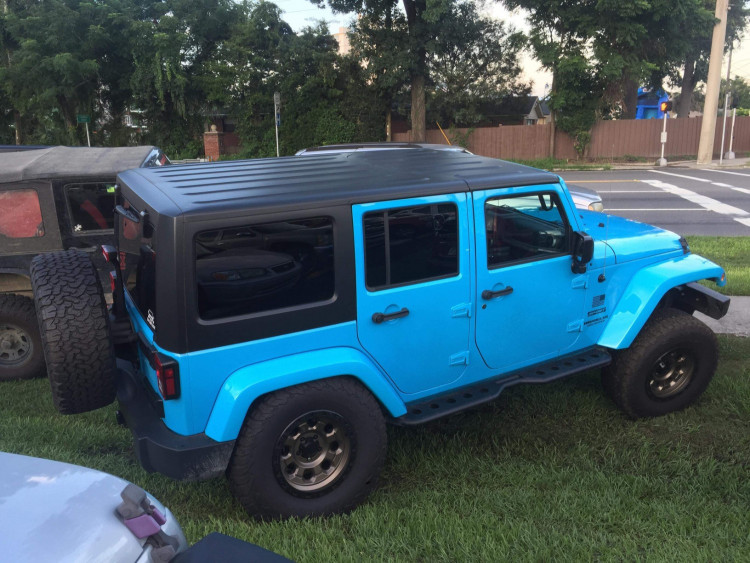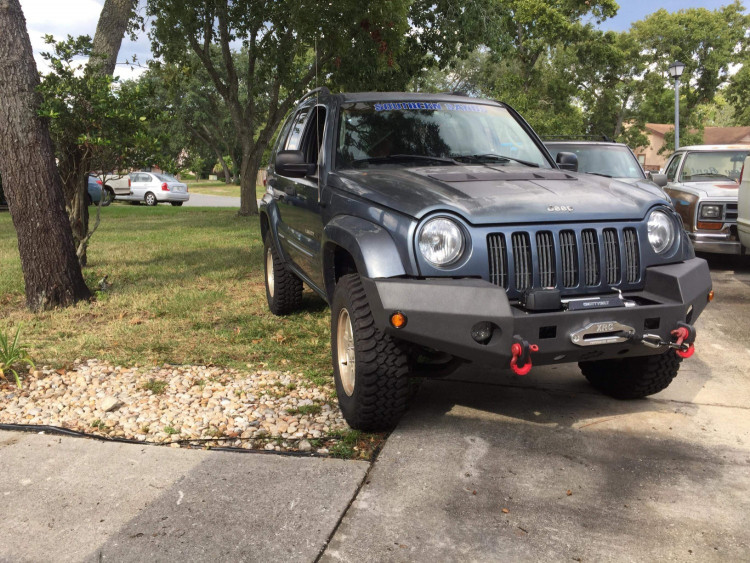 Kens 2007 Mall-Rated JK, Philosophy - wheel it til something breaks so you know where the weak links are.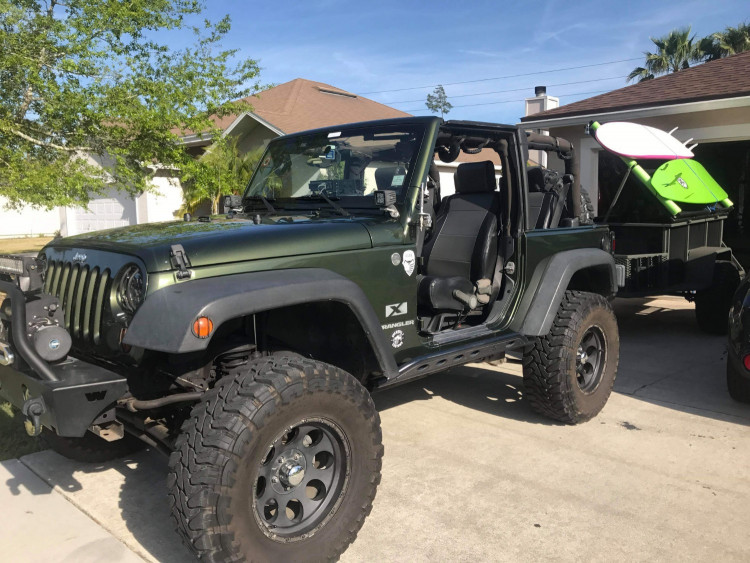 Meet Seabreeze! Recently purchased by Theresa Taylor and painted by Chuck Taylor. It's the beach jeep she's always wanted.